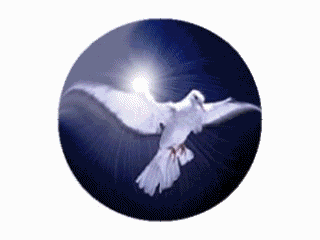 Walking In The Spirit
Written by James Reesor
Energy formed by God and Satan in the spirit realm is released for manifestation in the earthly dimension within the context of alternating forces. We souls have "free will" and can modify our own reality by using "faith" to resist or accept what is sent in ways having no specific correlation to calendar dates.
At this point in the war between good and evil, the current path being followed by a majority of Planet Earth inhabitants will lead to Armageddon as prophesied. The "universal principle" for determining how future events are "written in the stars" and can be anticipated if "prevailing factors" remain unchanged can be understood by properly translating the Bible:
"Verily I say unto you, Whatsoever ye shall bind on earth shall be bound in heaven: and whatsoever ye shall loose on earth shall be loosed in heaven. Again I say unto you, That if two of you shall agree on earth as touching any thing that they shall ask, it shall be done for them of my Father which is in heaven. For where two or three are gathered together in my name, there am I in the midst of them." – Matthew 18:18-20
"And many of them that sleep in the dust of the earth shall awake, some to everlasting life, and some to shame and everlasting contempt. And they that be wise shall shine as the brightness of the firmament; and they that turn many to righteousness as the stars for ever and ever. But thou, O Daniel, shut up the words, and seal the book, even to the time of the end: many shall run to and fro, and knowledge shall be increased." – Daniel 12:2-4
Start Date: 21 February 2011
(The prophetic information shown below is not in chronological order. Please understand that God will alter prevailing "energy" forces if we use the "power of faith" during fervent prayers).
There are no secrets hidden from children of God who are filled with knowledge sent from Heaven in these days before the end.
Hypocrites who deny the power of God and serve Him in name only as "Christians" have contributed to the distortion of Truth.
Private web sites and social networks on the Internet will be less desirable for Christians when regulations curtail activities.
Repudiation of messages from God delivered by the Elijah Spirit has resulted in a cursed earth for this final generation.
Google, Facebook, YouTube and other famous Internet sites have been distorting data and persecuting Christian users.
Muslim activists will join the Black Panthers and Marxist radicals in demonstrations against American corporations.
Christian evangelicals will verbally attack politicians and the media in an effort to squelch opposition to religious freedom.
Spring gas shortages and higher retail prices in 2011 will bring angry mobs out on streets in state capitols to express outrage.
Satanic government and business systems are preparing for the fall of Wall Street and the sudden rise of a New World Order.
Ridicule of Christians by media pundits will inspire demon-possessed arsonists to target churches, businesses, and homes.
The cost of gas will become unaffordable for most Americans when Middle East conflicts jeopardize crude oil production.
A covert Russian military force is posing as Iranians, Syrians, and Mexicans in a scheme to invade Israel and America.
Christians in South America will attempt to implement ideas associated with Amerijericho Free Barter Market concepts.
The supernatural manifestation of angels above the city of Chicago will be described as weather-related phenomenon.
Family-owned farms will provide jobs for criminals released from prisons as a way to provide relief to starving people.
Summer temperatures in 2011 will soar to record-breaking levels in many states – causing widespread power outages.
The man in Spain identified as "Satan incarnate" by Elijah will begin his public campaign to assume authority over nations.
Contempt for corruption in government will lead to a tax revolt over kick-back schemes connected to the national debt.
Chinese spies have infiltrated Congress, the Central Intelligence Agency, and the American State Department since the 1980's.
Children with supernatural healing powers will be seen as God-sent by thousands of people in need of free health care.
Iranian warships will try using the Suez Canal to disrupt world commerce in hope that provocation will lead to Israeli attacks.
Hundreds of wealthy American entrepreneurs will renounce citizenship to seek asylum in Cuba, Africa, and the Philippines.
Fall weather-related disasters in 2011 will be the reason for a shift in population from western to southeastern regions.
A drive-by shooter will create havoc on San Francisco streets for several nights in revenge for repeated public humiliation.
A failed attempt by China to dispose of devalued American treasury bonds will threaten the solvency of large banks.
Shipments to mosques will be closely scrutinized by the FBI after weapon stashes are discovered at a Maryland location.
State governments will create "Farm Food Plans" to cope with commodity shortages, unemployment, and malnutrition.
Negotiations between Jews and Arabs in hope of averting more wars will ultimately lead to a comprehensive peace treaty.
The United States of America will experience a Constitutional crisis when the truth about Obama's birth is revealed in court.
Dogs, cats, squirrels and rats will be used as food by desperate Americans when they are overwhelmed by the pain of hunger.
The spiritual Elijah visitation between 1938 and 2006 will be mocked by politicians when cable-TV reveals documentation.
Frequent death threats against aspiring presidential candidates in America will limit public participation during campaign rallies.
Winter storms in 2011 will cause transportation delays, power shortages, and havoc in cities because of frozen water pipes.
Poison-murders and vehicular suicide-crashes will rise sharply in America because of anxiety over hostile UFO activity.
Increased unemployment for government workers in most states will lead to civil unrest and bankruptcy for businesses.
Thousands of public schools in America will be forced to close due to a lack of operational budgets and teacher shortages.
Militant aliens will attempt to gain control of public lands in Texas, Arizona, New Mexico, California, and Tennessee.
Israel will be forced to preemptively launch nuclear missiles against Syria and Iran to avoid devastation of their homeland.
New York City will suffer violent destruction when a huge asteroid strikes nearby waters with tremendous force.
Floods in middle-America states will lead to higher food prices when crops needed to assure basic supplies are destroyed.
County and municipal governments will be using excessive license fees and fines as a way to cope with revenue shortfalls.
The primary requirement in a cure for cancer will be identified as "pulsating electromagnetic light rays" impacting nerve cells.
"Cessation of Pain Clinics" will be formed to expedite departure for biologically deficient humans in need of humane relief.
A synthetic chemical substitute for crude oil made from sewer sludge will begin stabilizing existing energy requirements.
Devaluation of the dollar will lead to a digital numerical point system to support free barter marketing of goods and services.
Self-induced aspirations will inspire the ascension of Prince Charles to the coveted throne prior to Queen Elizabeth's death.
A 9.7 California earthquake will start a chain of events leading to a economic tsunami that will make recovery impossible.
Roving bands of thieves and murderers will dominate every continent when the Evil One has total control of Planet Earth.
Military forces will converge near Israel for the purpose of eradicating Jews and taking control of oil and gas reserves.
The Mount of Olives will be split by a 11.7 earthquake when the foot of Christ touches ground at the start of Armageddon.
Final Note: Thousands of events not mentioned in this brief synopsis will be impacting the lives of billions in coming years.
"But, beloved, be not ignorant of this one thing, that one day is with the Lord as a thousand years, and a thousand years as one day. The Lord is not slack concerning his promise, as some men count slackness; but is longsuffering to us-ward, not willing that any should perish, but that all should come to repentance. But the day of the Lord will come as a thief in the night; in the which the heavens shall pass away with a great noise, and the elements shall melt with fervent heat, the earth also and the works that are therein shall be burned up." – 2 Peter 3:8-10